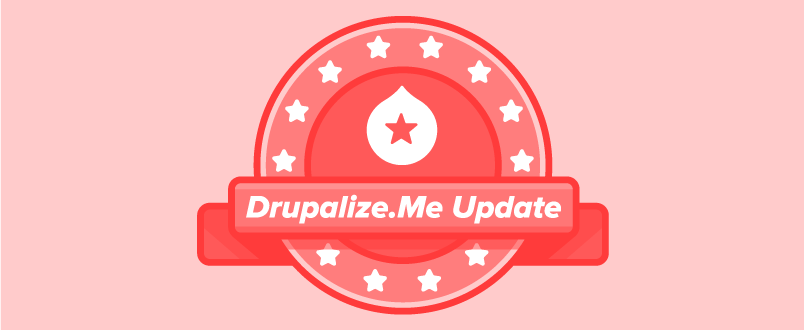 Last year was a year of waiting for Drupal 8 and working on big changes at Drupalize.Me. Now that we're into 2016, I want to take a break to reflect on 2015 and take a look at where we're headed next.
Drupal 8
Of course, the big news of 2015 was the release of Drupal 8 in November. For the last few years, we've been preparing. In January we released our What's New in Drupal 8 series to help members get ready for the changes. In November we were able to begin creating and publishing in-depth tutorials. Now we have a series about module development and the new configuration management system out the door. Part 1 of our theming series arrives in the next few weeks, and we're working on a migration series.
Lots of New Tutorials
Last year's cool tutorials weren't just about Drupal 8. All told we released 16 new series, plus a number of individual tutorials, for a total of 235 new tutorials in 2015. Topics ranged from new technologies like Node.js to less technical topics like project management. Of course there was lots of new Drupal material too, including a series about the new hotness decoupled Drupal. Our most popular tutorials of 2015 were:
Better Learning Tools
In addition to publishing tutorials, we had a few other notable changes in 2015. In November we introduced our written tutorial format, which helps us deliver the best content in the best format to our members. We also launched our role-based landing pages, along with some cool interviews with people who work with Drupal. We've been exploring a range of ways to better support our members, and both of these projects were big steps in that direction. We've also been experimenting with new ways to deliver custom learning plans. It's still a work in progress, but we're excited about the work we completed last year.
A New Company: Lullabot Education
Since it didn't change our learning resources, you might not have noticed that Lullabot decided to separate Drupalize.Me into its own fully-fledged company, called Lullabot Education. We spent lots of time getting everything organized at the end of 2015, then we officially started this new company on January 1, 2016. The entire Drupalize.Me team moved over to Lullabot Education, and we're excited about the future of our new company.
The Coming Year
As a team, we're focused solely on Drupalize.Me and our vision to improve online training—to make it more effective and accessible for everyone. We made significant strides last year, and now in 2016 our vision will be evident in everything we do. We'll continue to improve our tutorials and make Drupalize.Me accessible to more people, all while cranking out the best Drupal 8 training anywhere.