Image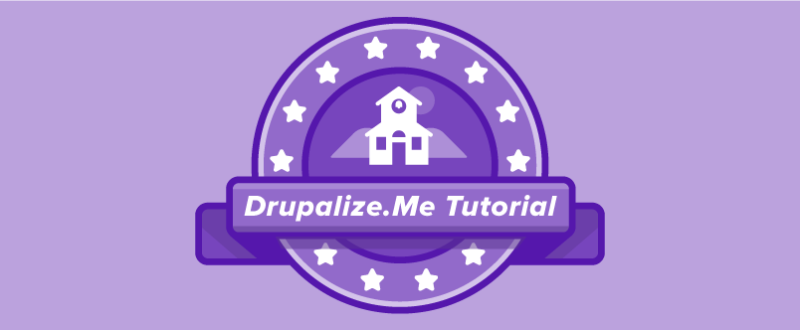 In our free Module Monday: Backup and Migrate tutorial we discussed all the benefits and features the module has to offer. In this tutorial I am going to extend on the functionality of the module because something great has happened in the Drupal world. Pantheon, a Drupal hosting provider, has purchased NodeSquirrel, an offsite backup solution created by the makers of the Backup and Migrate module. What is so great about this is Pantheon is allowing free backups up to 5gb. This means there are no more excuses not to have an offsite backup of your Drupal database.
Setting up the Backup and Migrate Module
Before we get started, let's take a quick run through of setting up Backup and Migrate. This tutorial is based off of 7.x-3.1 version of the module. Once the module is installed and you visit its configuration page in the Administration menu, go to Configuration > Backup and Migrate (admin/config/system/backup_migrate).
Set up a Private Files Directory
If you haven't already set one up, the first thing you will need to do is set up a private files directory. The reason for this is you would not want to store your production database where the public could get their hands on it. The database contains all your users' information and any private content you might have. To setup a private path, navigate using the link provided in the message.
Image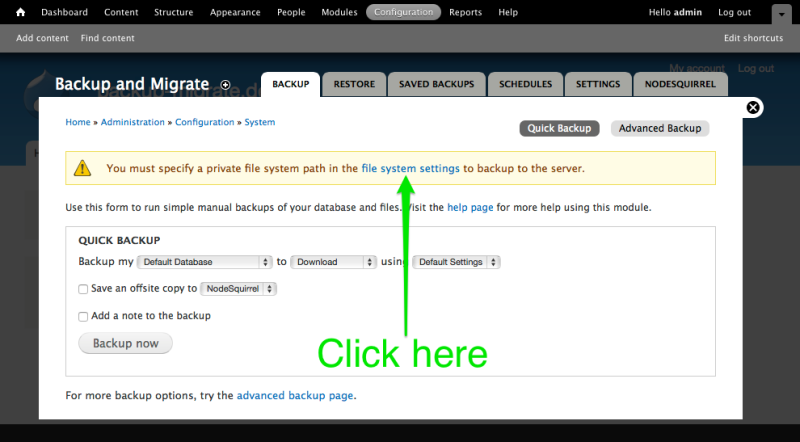 Once you are on the "Files" configuration page, create a path that is outside of your root Drupal install. This ensures yet another level of security from prying eyes.
Image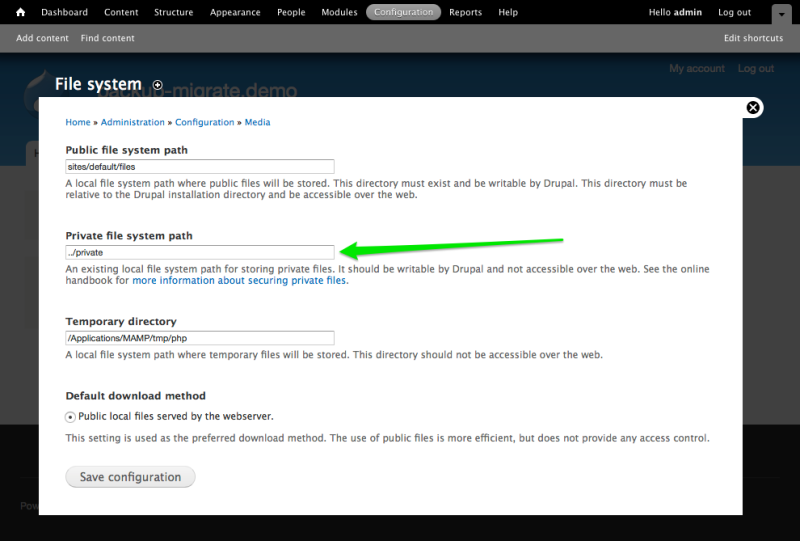 Create a NodeSquirrel Account
Now that we have the module configured and ready to use, let's begin the process of creating an offsite backup. Navigate to the NodeSquirrel tab in the Backup and Migrate configuration page. Assuming you don't have an account, click the provided link to create one.
Image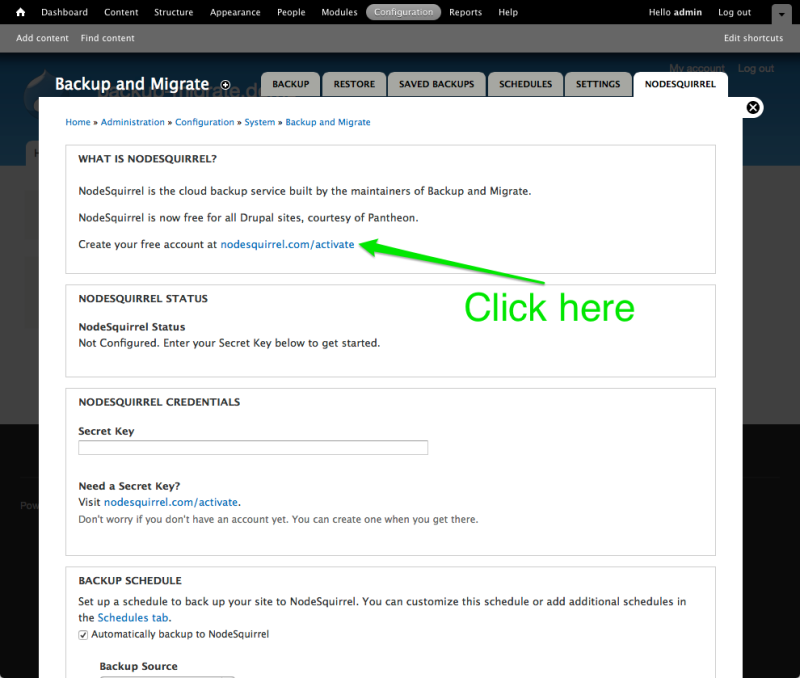 What is fantastic about the free tier at NodeSquirrel is the fact they don't even ask for credit card information. So if you know your database/backup is going to stay under 5gb this is just a fantastic offering. So go ahead and sign-up to get your secret key.
Image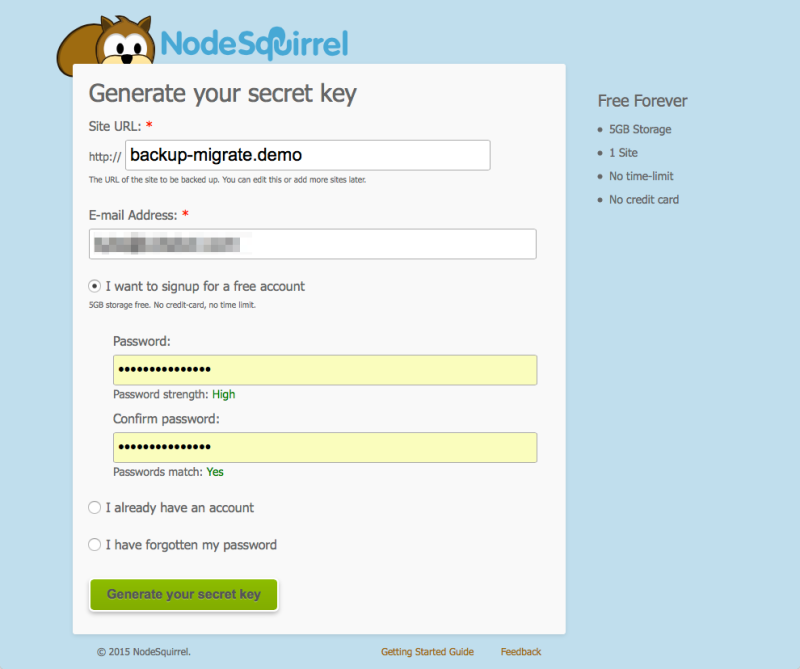 Create Your First Offsite Backup
With the provided secret key copied to your clipboard, navigate back to the NodeSquirrel tab on your site and paste it into the "Secret Key" field. Now save the configurations and let's perform your first backup. On the "Backup" tab of the module configuration page, let's do a simple quick backup. By default this will be a download but let's check to have it go to NodeSquirrel as well. Click "Backup now" to make the magic happen.
Image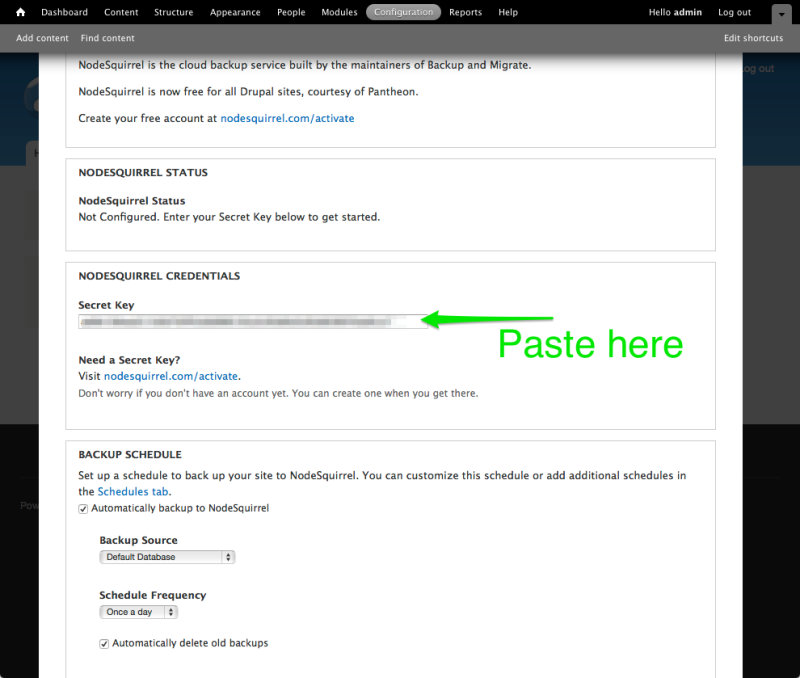 Image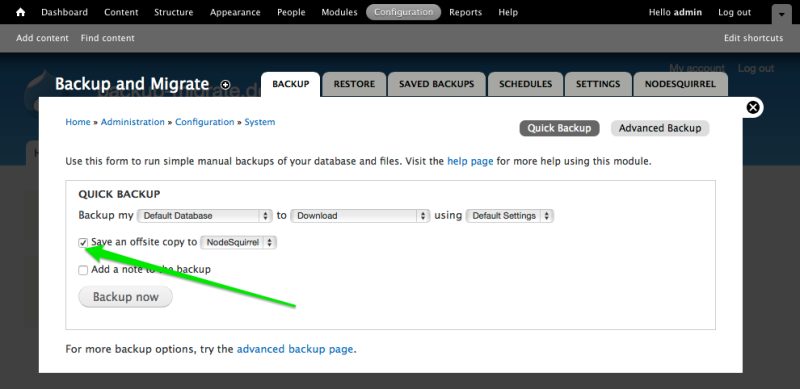 We can verify the backup was successful on NodeSquirrel by visiting two locations. The first one would be the "Saved Backups" tab and looking at the backups you can see the location which indeed is NodeSquirrel. You can also visit the "NodeSquirrel" tab to confirm that backup was success as well.
Image

Image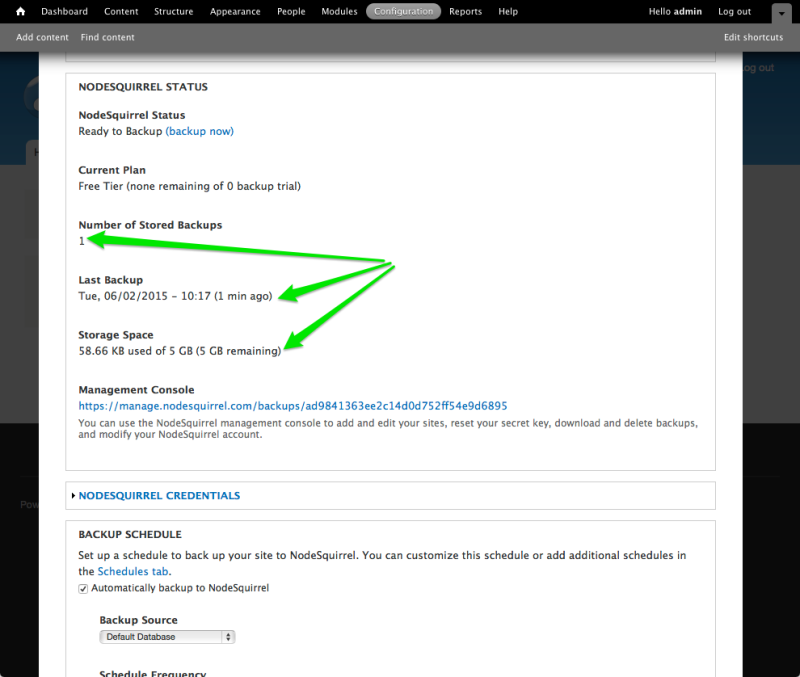 Offsite backups are a must today. A backup on the same server as your site is unwise. If disaster strikes, it usually affects the server where your site is hosted. If your entire server was lost, your backup is gone as well. So create a free offsite backup, no excuses anymore.