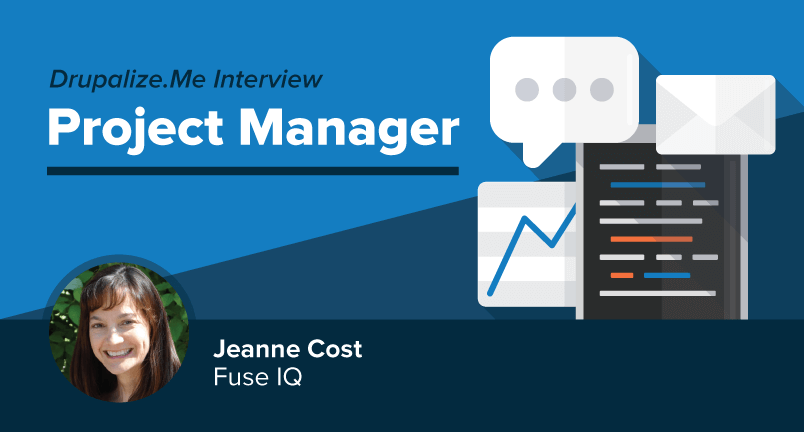 This interview is part of an ongoing series where we talk with a variety of people in the Drupal community about the work they do. Each interview focuses on a particular Drupal role, and asks the individuals about their work, tools they use, and advice for others starting in that role. You can read all of these interviews under this list of Drupal roles posts.
Interested in learning more about being a successful project manager? Check out our video series Introduction to Project Management where we interview our sister company Lullabot's managers and technical PMs about all-things project management.
Jeanne Cost
As project managers do, Jeanne wears many hats in her role as project manager and intermediary between clients and developers. She is an enthusiastic problem solver, educator, and communicator who skillfully juggles many projects at once.
Sr. Project Manager
Fuse IQ (based in Seattle)
Where to find Jeanne
How do you define the project manager role?
We are the glue that holds it all together! We are responsible for the project from beginning to end. We have the responsibility to balance the desired features against resources and budget.
What do you currently do for work? What does your daily routine and work process look like? What kind of tasks do you do on a daily basis?
Every day is a bit different, depending on where my projects are in the lifecycle. Generally, I answer emails, assign and monitor tasks, write requirements, and participate in meetings. I constantly manage all the small details, while keeping an eye on the big picture. Even after a project is launched, I answer questions from clients on how to do something on their current site, or talk to them about implementing new functionality.
What do others look to you to do on a project?
For clients, I translate their vision into dev speak, and the requirements. I'm the educator of all things Drupal, so they can make decisions that help them stick to their budget and get their desired outcome. I am their trainer, to make sure they can maintain their site going forward. For the development team, I am the gatekeeper, making sure they have the requirements they need, and are not randomized by client requests.
What would you say is your strongest skill and how have you honed that skill over the years?
Problem Solving! I approach each project with the knowledge that "I don't know what I don't know" and I always peel through the layers to define the real requirement or issue. Every project has problems to solve, such as how you're going to implement a certain feature or meet a timeline, so I always use this skill. I've honed this skill through years of working as a Web PM in both big and small companies, and dealing with a lot of challenges. I actually learned Drupal because I wanted to solve problems quickly and didn't always want to wait for the developer.
How did you get started on this career path?
I was a business major, and got my start in technology doing end user support, which included helping people with issues, digging into problems, and finding solutions. That evolved into doing process improvement and managing implementations. It was something I found came naturally to me, and I took classes and training to expand on my skills.
What is most challenging about being a project manager?
As a PM, I juggle many projects at once. That means working with different clients, different developers, different requirements, and I shift gears all the time.
What are your favorite tools and resources to help you do your work?
At Fuse IQ, we use Asana for task management, and Google Docs for documentation. It's changed the way we work and makes it so much easier to collaborate with the client and development team.
If you were starting out as a project manager all over again, is there anything you would do differently?
Honestly, I can't think of anything I'd do differently. I've always been very self-motivated, and found the training I needed, or dove into learning something new. I sometimes consider getting a PMP certification, but don't think that would fit the situation I'm in, or the way I like to work.
What advice do you have for someone just starting out as a project manager?
Find some projects to manage. Classes are helpful, but hands on is better. If you aren't in an environment where there are other PMs, volunteer and make your own projects. If you are part of a project team, observe what the PM does and see if they can mentor you. Even as a PM, you should keep learning. I go to meetings for our local Seattle Users Group and DrupalCon. I take webinars through Drupalize.Me or other sources. I always like to learn what other project managers are doing.