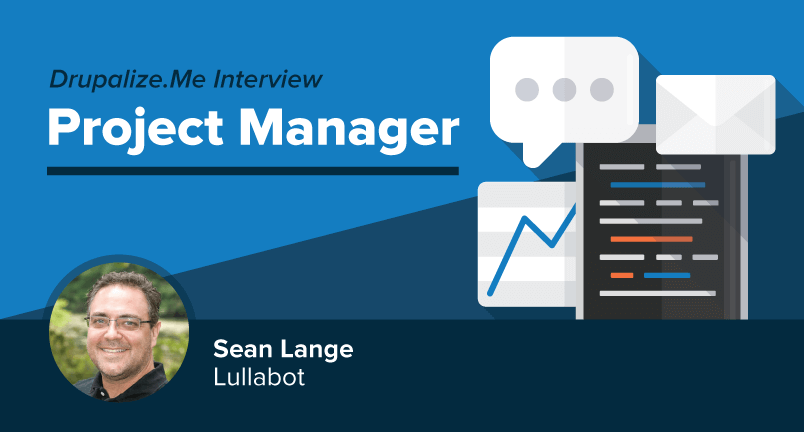 This interview is part of an ongoing series where we talk with a variety of people in the Drupal community about the work they do. Each interview focuses on a particular Drupal role, and asks the individuals about their work, tools they use, and advice for others starting in that role. You can read all of these interviews under this list of Drupal roles posts.
Interested in learning more about being a successful project manager? Check out our video series Introduction to Project Management where we interview our sister company Lullabot's managers and technical PMs about all-things project management.
Sean Lange
Sean is an advocate for developers and project manager at Lullabot, a fully distributed digital agency.
Lullabot
Project Manager
Where to find Sean
How do you define the project manager role?
The PM is the Project Advocate, constantly balancing the expectations and goals of the stakeholders with the scope, timeline, and execution of the development team. To accomplish this Project Managers become consensus builders, chief communicators, and process facilitators.
What do you currently do for work? What does your daily routine and work process look like? What kind of tasks do you do on a daily basis?
I'm a big fan of starting early. In our profession, early is relative, so to be specific I get up about 6am. I have two teenage daughters so part of my morning involves checking that they are up and moving; however, then it's directly to the kitchen for my first cup of coffee (usually have 3-4 a day). I spend about an hour looking through emails and my todo lists in an effort to get an idea of the scope of my day. It's about an hour later that I log into slack, Skype, and/or any other IM apps needed for the current client work. From there my typical day includes one or two scrum meetings, one or two miscellaneous client meetings, several one-on-one check-ins and/or discussions with project team members, and plenty of time creating, organizing, problem-solving and structuring work for developers.
Because communication is crucial to a project's success, I am constantly taking notes (Evernote rocks) for use in meetings, phone calls, and follow-ups with the team and the client. While I prefer face-to-face discussion (Google Hangouts, WebEx, Skype) over long emails, I find that weekly summary emails that provide progress updates, detail key successes, and identify potential risk factors provides a great way to "tell the story" of the project throughout its lifecycle.
What do others look to you to do on a project?
I'd say planning, communication, and organization. Taking the lead and being the go-to person for anything not directly related to code. I feel my job is to make it as easy and frictionless as possible for the development team to do their job. As well as being the go-to person for the client to talk about any aspect of the project be it scope and time, or technologies and methodologies.
What would you say is your strongest skill and how have you honed that skill over the years?
Creating unity. I've been pretty successful at working with a team. Being a facilitator, a consensus builder, or a strategist when needed. I find that amazing things can be completed when people work together, communicate often, and have a common vision of success. My ability to keep projects on time and on-budget would be a close second.
How did you get started on this career path?
I was a Recreation Supervisor for a Parks and Recreation District (yes, like the TV Show). While I thoroughly enjoyed working with the families, working with the youth, and creating community through activities and programs…it was so slow. I had always been drawn to graphic design; however, I'm not an illustrator and I could only go so far making posters and t-shirts. Through design I stumbled into HTML, taught myself CSS, and eventually discovered Drupal, which allowed me to separate HTML and CSS from back-end code (theoretically). I started doing freelance Drupal work while working full-time for Parks and Rec working way too many hours. I had been working on a site called WallStreetOasis.com, the owner Patrick had become as much a friend as a client. He helped convince me that I had the chops, I had the skills, and that I should follow my passion and be a full-time freelance web developer. I did, and thanks to Patrick—and my wife—I am able to do what I love to this day.
What is most challenging about being a project manager?
For me, it's writing. There is a lot of writing. It requires focus and patience to take complex issues, discussions, and processes and turn them into clear and valuable written communication. It is a consistent challenge for me. I have become a big fan of using the built-in "speech" tools on my MBP—listening back to what I have written and make adjustments until it's just right.
What are your favorite tools and resources to help you do your work?
For actual project management (ticketing, assignments, sprints), Jira has proven to be the most robust and complete tool. Use of Google Docs and Sheets is a great resource for collaborative editing and thinking through solutions as a team. My go-to tool is Evernote. I have long notes, short notes, and web clippings, I use it consistently during the day to keep my thoughts organized any my details documented.
If you were starting out as a project manager all over again, is there anything you would do differently?
I don't think so. I have learned Project Management much the same way I learned development; by doing. I am now in the process of learning Project Management formally via books and videos.
What advice do you have for someone just starting out as a project manager?
Look at where you derive the enjoyment of working on a project. Decide if you can be as motivated by the success of others as you are by completing tickets on your own.
There is a big difference between spending your day working tickets, being able to mark them "complete," and feel a satisfaction at the end of a given task. Project Management does not offer that same reward. For me, the enjoyment of being a Project Manager is providing others with the opportunity be successful. The feeling of satisfaction hopefully coming at the end of a successful project and a happy client…oh, and happy developers, too.