Check your version
This tutorial covers a topic in Drupal 9 which may or may not be the version you're using. We're keeping this tutorial online as a courtesy to users of Drupal 9, but we consider it archived.
Bartik is a core theme in Drupal. As a default theme for Drupal, it serves as an instructive example of a well-developed responsive theme. In this tutorial, we'll tour and explore Bartik, identify its primary features, and explain the use case for the Bartik theme and what you can learn from it.
Goal
Recognize Bartik theme and identify its primary features. Explain the use cases for Bartik and what you can learn from it.
Prerequisites
Watch Core Theme: Bartik
Why explore Bartik?
It's a good example of how to create a custom theme.
See the principles of Drupal theming-in-action.
It's Drupal's default theme and the first theme you'll see when you install Drupal.
See how Drupal implements responsive features in a theme.
Explore the files of Bartik
To get familiar with Bartik and the principles of Drupal theming, fire up a text editor and start exploring the files inside the Bartik theme.
Image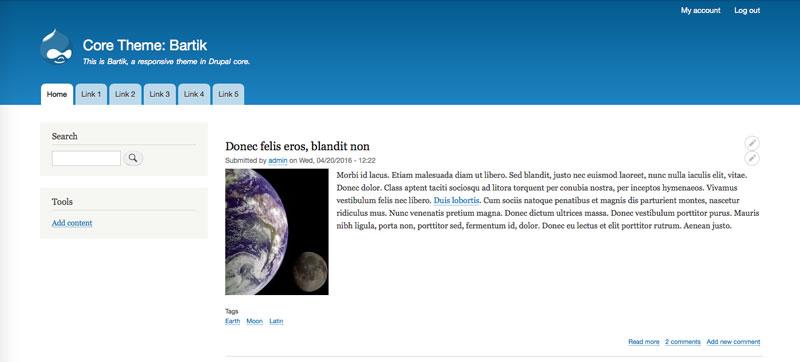 As you can see, there's a lot to learn just by exploring Bartik. Use our theming guide in conjunction with Bartik to explore many principles of Drupal theming in action, and then apply what you learn in your own custom theme.
If you want to use Bartik's files and structure as a basis for your own theme, don't modify core/themes/bartik, but instead copy core/themes/bartik to themes/ and rename the directory and any filename containing the "bartik" with your new theme's machine name. See the tutorial Structure of a Theme for more details on how to set up a custom theme. These same guidelines apply to any theme, including the next core theme we'll be exploring: Stark.
Recap
In this tutorial, we explored Bartik, a core theme in Drupal. We learned about Bartik's unique features and what theming concepts you can learn from exploring Bartik's theme files.
Further your understanding
Explain to a colleague two or three reasons why it can be useful and instructive to explore Bartik.
Which Drupal module does Bartik depend on in its theme settings?
What is the name of the file that defines Bartik's regions?
Additional resources
This sampling of resources will help you understand Bartik and learn the concepts and techniques of theming in Drupal. Explore other theming tutorials in the rest of our Drupal Theming Guide.