Are you finding yourself searching for some new icons to use on your latest project? Drupalize.Me loves helping out the Drupal community, and people in general, so for this post I thought it would be fitting to provide you with a carefully designed free icon set. In fact, this is not the first time a 'Bot has provided a free icon set. Check out Nate Haug's icon set from 2006 on Lullabot.com.
Icons are powerful visual aids that can quickly communicate information to people both on and off the web. I have designed a Drupal-inspired blue drop version as well as a standard circular color version for you to use however you'd like. Each set has 28 icons, and you can even give them your own colorful twist to match your brand as I have provided the illustrator file for you. I really hope you find these helpful and would love to see how you have used them on your projects. Below is a preview of the icons for both the drop and color versions, download the file attached for the full package.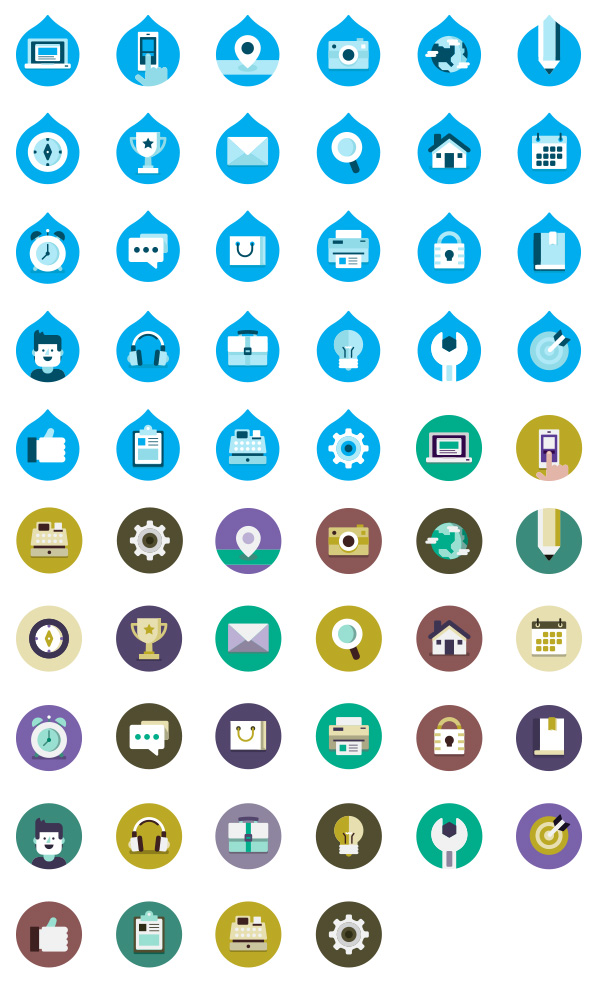 License
Absolutely free. Plus, as mentioned, the Illustrator file is provided for you, so you are free to make modifications. These are licensed under the GNU General Public License. This license means that you are granted full rights to modify the icons however you feel. However, if you use these icons or the source files as the base for your own new icons or iconset, you also must make your modified source files available upon request. I would love to see how you've used these in your projects.