One of my favorite parts about this blog series, Learning through Trial and Error, is the ability to just poke around Drupal 8 and see what is new.  I decided it was time to give the block system another go without any helper modules in place. Wow, blocks are now a contender in Drupal 8! Before we take a video tour of the new block system, here is a list of new things I have discovered:
Custom blocks, and blocks in general, can be used more than once
A block title is now an on/off check box instead of having to use <none>
The UI is easier to use with new blocks now in a sidebar instead of at the bottom
This sidebar UI allows for dynamic filtering to make it even easier to find a block
Configurations of block types and layout are now in code!!!
Permissions are still very limited
Site builders will still probably want something like Context in D8
One of the biggest changes you'll see is a a new tab in the block configuration page for "Custom block library." This library is used to display all your custom blocks that were created via the blocks module. It contains two sub-tabs: "Types" and "Blocks." Types is like content types for blocks. You can define standard kinds of blocks and each block type can have its own fields attached—even images. The fields on your block types use the new form and view modes, which gives you a lot of flexibility in terms of how your block fields are displayed. You can set view modes per block location, which means you could have a block with an image field, and that one image field will display differently depending on the location of the block.
Here's a sneak peak of the new block layout UI:
Image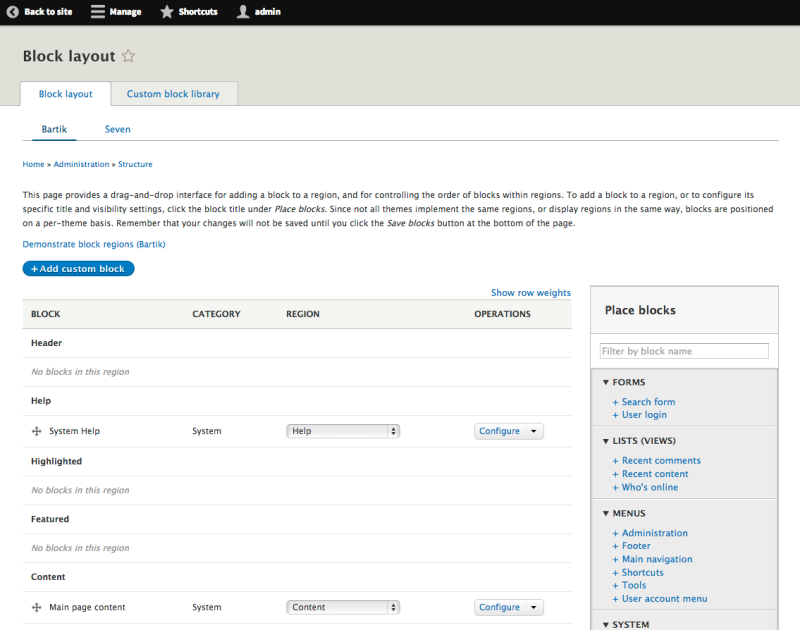 Take a look at the video to get a tour of the new block system, I am getting really excited because if things like the block system got this kind of attention, Drupal 8 is gonna be a great CMS and one to look out for.