At Osio Labs, our company vision includes making online learning more accessible for everyone, and addressing barriers that deny people access to learning resources.
We know that salaries differ around the world. For people who live in countries where the exchange rate and local economy are not competitive with the US dollar, this can make a Drupalize.Me membership prohibitively expensive. We've always believed that everyone should have equitable access to our training materials. So, starting today, we're experimenting with ways to offer rates that are scaled to your local economy, also called geopricing.
We're starting small, with a limited list of countries, so we can test everything and make sure the process is working. Assuming it does, we'll expand this list to include other countries.
Now, when you go through the process of purchasing a membership we'll automatically apply a discounted rate to your subscription where applicable. It'll look something like this:
Image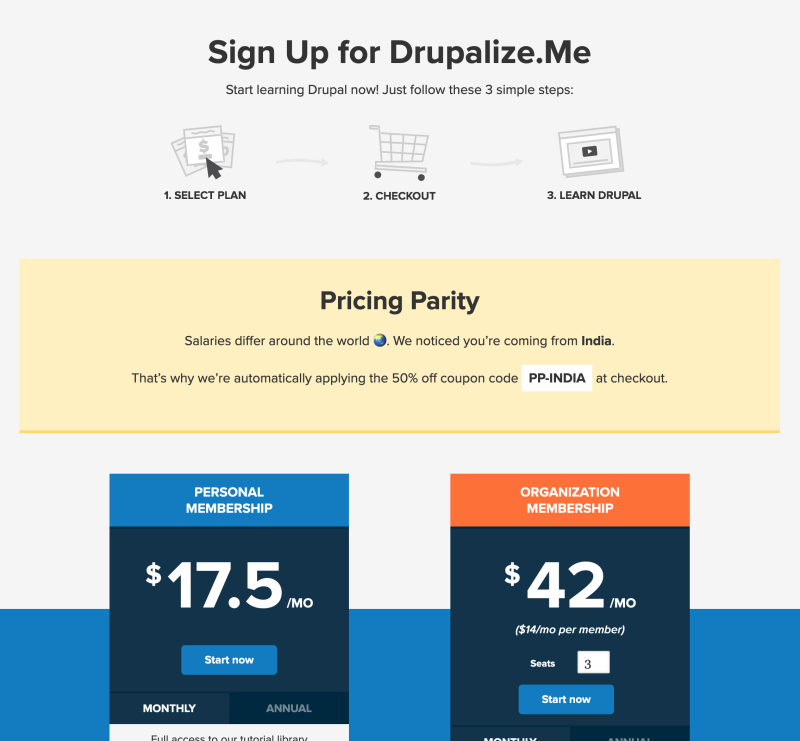 Our hope is that by empowering more people with access to high quality Drupal training, we can help to grow the global Drupal community and help to unlock the incredible personal and professional opportunities that come with learning Drupal.
Frequently Asked Questions (FAQ)
How did you determine the discount rate?
With geopricing, there is no single way to determine what discount to give and to whom. Osio Labs is a small company and we're always trying to figure out what would be the most efficient (and hopefully elegant) solution -- one that doesn't overwhelm us with too many hours in either research or upkeep time after the solution is implemented.
To determine our discount code (which we're still working on rolling out on a larger scale) we used World Bank data on global pricing ratios, and integrated it with data from Google Analytics showing which countries use our website the most but are not yet paying to get access to our tutorials behind the paywall. Since calculating a rate for every individual country is time consuming, we opted to simply offer 3 discount tiers, based on this rough calculation.
I don't see a discount. Can I still get a discounted rate?
For now, we're trying this out in just a few countries to help make sure the system works. Assuming it does, we'll add more countries in the future. If your country isn't on the list, and you think a discounted rate would apply, contact us.
Isn't there potential for abuse?
Yes, but we feel like the pros outweigh the cons in this case. We're starting out small, and we'll track how people participate, so we can get a better sense of how the codes are used (and preferably not abused). Our hope is that these discounted rates will be available for people in our global community who need them, and that other people aren't going to try and take advantage of our goodwill.